Bishop says Catholics should follow their example of selfless dedication and hard work Chinese missionaries reburied in Inner Mongolia
ucanews.com reporter, Hong Kong
China, August 29, 2018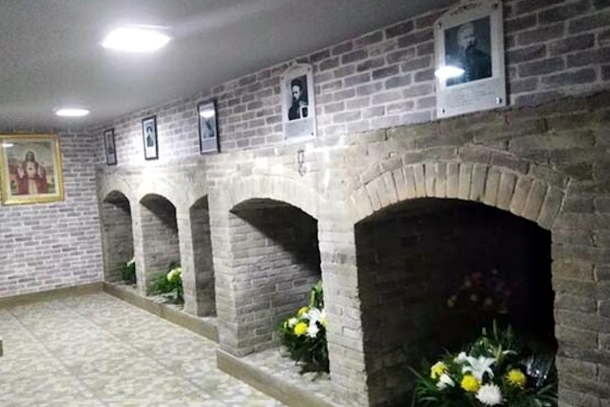 The remains of seven missionaries who served in China were reburied in the catacombs of Sansenggong Catholic Church in Bameng Diocese of Inner Mongolia. The ceremony was presided over by Bishop Matthias Du Jiang of Bameng. Funded by the diocese and the parish, the full renovation of the catacombs was started in 2016.
Bishop Du told ucanews.com that during the Cultural Revolution the remains of 16 missionaries of the Congregation of the Immaculate Heart of Mary were dug up by Red Guards and abandoned in the desert.
In 1992 and 1993, the remains of nine missioners were recovered. They included bishops and priests, two of whom were martyrs whose remains were placed in the catacombs of Xiayingzi Catholic Church in Bameng. Bishop Du said the other seven missionaries found later were reburied at Sansenggong Catholic Church for their selfless dedication and hard work. "This time we reburied the remains of the seven missioners in the hope that they would pray for the diocese and let the faithful follow their example by dedicating to the church and giving witness to the Lord," he said.